En Primeur Notebook – Part 1
En Primeur Week, an annual ritual which sees wine professionals from all over the world flocking to Bordeaux. Over the course of three days, in six host châteaux, the Union des Grands Crus de Bordeaux holds tasting sessions devoted to each of its constituent appellations. Tag along with Vintage for a behind-the-scenes insight into this vast event, and get an exclusive preview of the 2022 vintage.
On this Tuesday morning, the atmosphere is electric at Château de Fieuzal, the team is working flat out to welcome tasters from all over the world. The staff buzz to and fro in a hive of activity, making sure that everything is perfect and that the welcome is all smiles. It seems as if nothing and nobody could dampen the spirits of the badge-sporting crowd, flocking to taste the latest offering from the Great Growth estates of Graves, Pessac-Léognan, Sauternes and Barsac. No doubt about it, it's a pleasure to be back.
 "The atmosphere is laid-back because it's a very good vintage. You can feel that sense of excitement, it's a real pleasure to be here. Nobody wanted to miss En Primeur Week this year."
The wines of Graves and Pessac-Léognan are lined up in the winery in front of the château's concrete vats, each one bearing the name of one of the grandchildren of Brenda and Lochlann Quinn, owners of Fieuzal since 2001. The wines from Sauternes and Barsac occupy a neighbouring room. Notebooks in hand, tasters from the four corners of the earth are busy assessing the quality of the 2022 vintage. Calmly, solemnly, they work their way through the wines with professional rigour. But soon enough their expressions become more relaxed, and broad smiles begin to break out. The professionals are in no doubt as to the quality of the vintage. 2022 appears to be a great success for both reds and whites, and winemakers from Sauternes and Barsac are hailing an exceptional year, "the best we've seen in at least 5 years". All of which explains the happy faces behind the stands, as one winemaker concurred: "The atmosphere is laid-back because it's a very good vintage. You can feel that sense of excitement, it's a real pleasure to be here. Nobody wanted to miss En Primeur Week this year."
© Martin Dupuy Photographie
At midday, it is time for us to check in on Saint-Emilion. An hour later, we are wending our way through the budding vines and lush green hillsides of the right bank. At Château Valandraud, the assembled professionals head to the veranda for a welcome snack between two tastings. Trays of exquisite-looking canapés are doing the rounds, and the general tone of the lunchtime chatter is joyous. In fact, the crowd is so dense that even getting a coffee turns out to be a test of patience. Meanwhile, importers, merchants, sommeliers and the like continue to pour into the vat room of this biodynamic-certified estate. Once again, the verdict is unanimous. Those who have had the privilege of tasting the new vintage in the state-of-the-art winery, whose curving contours match the lay of the land, are united in singing the praises of 2022. As we chat to professionals from all over the world, the adjectives used to describe the vintage range from "promising" to "absolutely exceptional". One Japanese importer, obliged to miss En Primeur Week for the past three years, is clearly delighted to be back: "It's a unique opportunity. It was frustrating to have to miss it. Three years later, it's still a magical experience to discover the new vintage, and to visit all of the appellations."
Join us tomorrow for the next leg of our road trip, from Pomerol to Margaux.
Interview with Pierre-Igor Cusnir, Administrative Manager, and Fanny Delubac, Marketing & Direct Sales Manager at Maison Berthaudin
What are your first impressions of the 2022 vintage?
It's an exceptional vintage. Bursting with fruit, the tannins are already well-rounded and the balance is great. There really is a lot to enjoy, and we were surprised by the white wines too. It is often said that hot years are not conducive to good white wines, but this year they are magnificent. So it really is a very good vintage.
What is the atmosphere like as En Primeur Week gets underway?
The return of our international colleagues (particularly from Asia and America) means that there are a lot of people in town. Things are back to normal. We also get the sense that people feel freer, less worried. That makes for a good atmosphere, and it helps that the quality of the wines is excellent this year. All of the conditions have been met for a very enjoyable week of tasting.
As importers, what does En Primeur Week mean to you?
It's an important time of year for our clients, because we sell wines en primeur to a loyal client base who trust our advice. It's an opportunity to come and taste the vintage for ourselves, making sure we're as well-informed as possible when advising our clients on what to buy. It's also good to be able to bring along some clients, and give them the chance to discover the new vintage. This year, for example, we've invited some clients who have a dozen restaurants in Switzerland, and are excellent ambassadors for Bordeaux in our country. All things considered, En Primeur week is a very important event for us, not least because it gives us the chance to meet and chat with winemakers.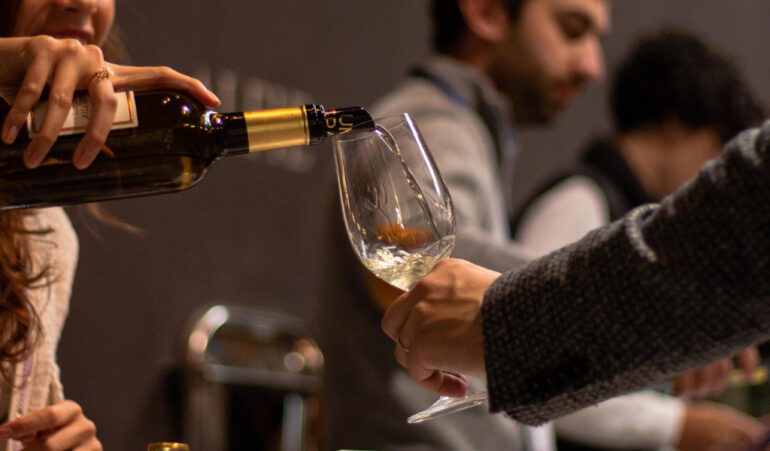 © Martin Dupuy Photographie
What is your schedule looking like this year?
On Tuesday we tasted Pomerol and Saint-Emilion, on Wednesday we're going to start in Margaux and work our way up. We really appreciate the system put in place by the UGCB, with collective tastings bringing together all of the estates in each appellation. Otherwise, we'd never be able to get round them all. It really is very well-organised.
Have any of the wines really stood out so far?
Definitely. Pomerol as a whole did extremely well this year. These wines are our favourite so far.