Interview with Andrea Donadio
Recently voted Argentina's best sommelier, Andrea Donadio is now competing for the Best Sommelier of the World competition, taking place in Paris this week. She is hoping for the same fate as her national football team with their World Cup triumph!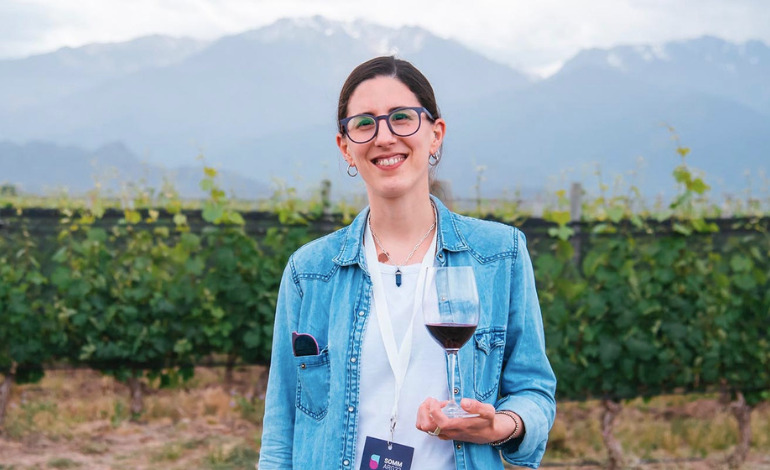 How did you become a sommelier?
More or less by accident! I initially studied gastronomy in Buenos Aires, before working with a friend who was a wine retailer. I didn't know much about wine but I really enjoyed my time there. That's when I decided to specialise in wine, completing internships in fine dining restaurants, particularly at Martin Berasategui and as an assistant sommelier to Sergio Calderon at Michel Bras in Laguiole. I loved talking to clients. I then returned to Argentina and began working in a restaurant, where I became head sommelier until 2020. At the time, I had planned to go to Paris to work at Michel Bras' restaurant La Halle aux Grains, at the Bourse du Commerce. And then everything went up in the air during the pandemic and I decided to embark on my own project. I now have my own wine shop called Tinte Vinos in the Nuñez district of Buenos Aires.
ou were voted best sommelier in Argentina, are you proud of this achievement?
Yes because I first applied for this competition back in 2014. Since then, I have taken part every year. Winning the competition this year was particularly special for me since I am now a mother to an 18-month-old daughter. When I was encouraged to take part again, I told myself it was impossible, I didn't have the time nor energy to focus on the competition. In the end, I decided to try my luck once more. To prepare for it, I began following a precise schedule, setting myself small daily goals. I adopted the "time blocking" method to better manage what little free time I had. Every evening between October and May, I would study from 10pm until midnight. When I won the competition in Mendoza, I was rather proud of myself: proud to have reached my goals with the satisfaction of proving that it was possible to achieve all this as a new mum.
How do you prepare for competitions?
Competitions aren't so much about competing against others as about competing against yourself. That is how I see it. You can never be 100% ready because there is so much to know. What's most important is feeling calm on the actual day. Training for it is not unlike training for a high-level sports competition: you train for several months for a precise moment. Personally, to be at the top of my game on the day of the competition, I like to stay active, particularly by running. I also spend a lot of time with my psychologist to help me mentally prepare for the competition.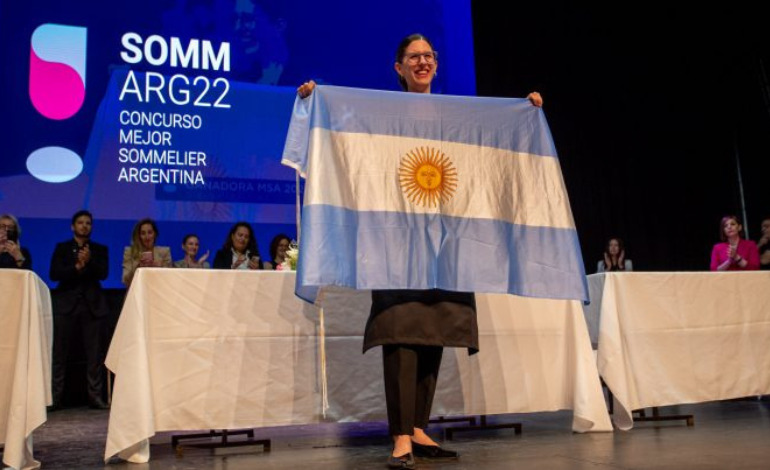 What is your aim for the best sommelier of the world competition in France?
For my first international competition, I think it would be great to reach the semi-finals. Above all, I see it as a learning curve but it is true that I have a legacy to uphold. When I tell people I'm Argentinian, they instantly think of Valeria Gamper, Paz Levinson, Martin Bruno and Sergio Calderon, all these great Argentinian sommeliers.
"I really enjoy tasting a fine Bordeaux wine since I'm very keen on Merlot."
What do fine Bordeaux wines mean to you?
I haven't had the chance to visit Bordeaux but it's a place I would love to discover since it's a legendary region for wine enthusiasts. I really enjoy tasting a fine Bordeaux wine since I'm very keen on Merlot. I really like the fact that this grape variety has an illustrious reputation in Bordeaux but is lesser-known elsewhere in the world.
Can you tell us one of your Bordeaux wine highlights?
During the final of the best sommelier in Argentina competition, we blind-tasted a 2009 Cheval Blanc. We had to identify the region, grape variety, and, in particular, the year. It was partly thanks to this bottle that I won the competition. And the wine was superb! It was such a memorable moment!
Which wine would you pair with a traditional Argentinian asado (barbecue)?
We often start an asado by eating offal and veal sweetbread. I would choose a slightly oaky bottle of Chardonnay as an accompaniment to balance out the richness and texture of veal sweetbread. And then for red meat, a bottle of Malbec of course. It is perfect paired with grilled meat! Malbec is a world of its own, some are very intense while others are well-structured. There is no single style, and discovering its diversity is a bit like discovering Argentina from North to South, since this grape variety is suited to very different soils and climates.