Empreinte par Audiard. The perfect partner for Bordeaux great growths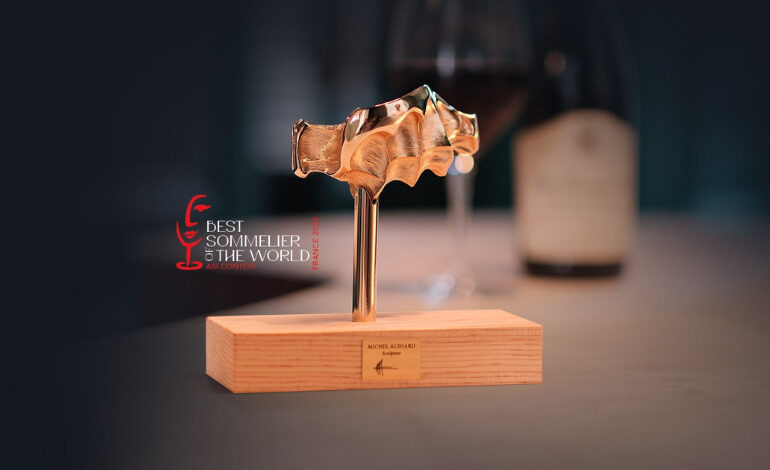 Sculptor Michel Audiard and entrepreneur Sébastien Forest have teamed up to offer wine lovers an iconic wine opener: "Empreinte par Audiard". This exceptional object, moulded and sculpted to your own hand and designed as an ode to transmission, could very well be the perfect partner of Bordeaux great growths.
Hello Sébastien. Could you tell us about the "Empreinte par Audiard" twist and pull wine opener?
"Empreinte par Audiard is a twist and pull wine opener, a corkscrew that doubles as a work of art, if you will. Michel Audiard's idea was to create a unique, exceptional and completely personalised work of art, shaped to your hand and marked by your handprint.
On a practical level, it is an extraordinary tool that offers the incredible sensation and comfort of having one's hand hugged by a perfectly moulded metal sculpture.
For me personally, the opener is an object evoking memories and transmission. This work of art fills this void in the most poetic and moving way possible. The opener is therefore a unique object that becomes a part of special occasions and friendships.
The winner of the Best Sommelier of the World competition was awarded an Empreinte wine opener. Was it important for you to be involved in this event?
"Absolutely. As wine lovers, we were honoured to be selected by the USDF and the Association de la Sommellerie Internationale. With the notion of "transmission" I mentioned earlier in mind, we made an imprint of the hand of Marc Almert, the defending world champion. We then created an opener sculpted to his hand, which he himself gave to the winner Raimonds Tomsons on stage at the award ceremony, as a symbol of the handover from one champion to another. He will also receive an opener sculpted to his own hand very soon."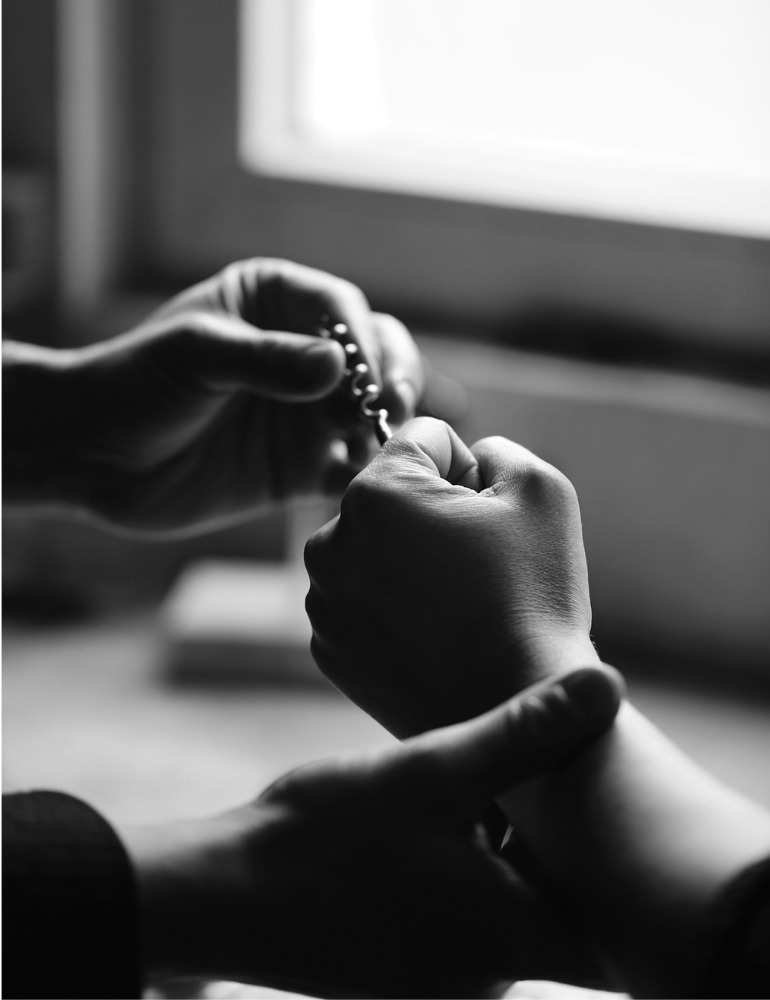 How long does it take to make the opener?
"A single opener takes from 10 to 12 weeks to make at the foundry. The artist and his craftsmen (Michel Audiard's art foundry obtained the "Living Heritage Company" label in 2007) attach great importance to capturing all the details of the hand in metal for eternity. The object is made from tin or bronze and then silver-plated, black nickel-plated or gilded with 24-carat fine gold.… But in reality, we can imagine all kinds of creations since these artworks are unique pieces and our craftsmen have mastered all the finest goldsmith skills (casting, chiselling, polishing, setting, etc.). We received a request from a vineyard owner, for instance, who wanted to have us set a small flint stone from his property in his opener."
You are a huge wine lover. What is your relationship with Bordeaux great growths?
"I love wine, and Bordeaux great growths in particular. My mother is totally devoted to Château d'Yquem wines. I have a few special bottles in my personal cellar, and open one every year, religiously, for her birthday. I also remember getting a few friends together for my 35th birthday and enjoying a horizontal tasting of 1973 wines (not the finest of vintages) to mark the year I was born. We were nevertheless pleasantly surprised by the balance of the Pomerols, particularly a bottle of Pétrus. What a fantastic memory! The great Bordeaux are fundamental to anyone who loves wine."
How did the idea of Empreinte begin?
"Michel is an epicurean and friends with local winegrowers. Nearly twenty years ago, one of them confided to him:
- "You know, everything I know about wine was passed down from my grandfather but what is crazy is that I never met him since he died before I was born!"
- "But how did he transmit his expertise then?", the artist asked.
- "Well, I inherited only one thing from my grandfather... The only thing I have from him is a notebook in which he described his working methods in the vineyards, his secrets, and by reading it I learned how to do my job… But I don't have any other object which belonged to him. Nothing that I can grasp onto. Imagine, he was a winegrower and I am a winegrower too, and I don't even have his bottle opener! I would have been deeply moved to use his wine opener every time I open a bottle of wine."
That's how Empreinte came about...
In Michel's view, the opener reflects the art of both the here and now and eternity!
Opening a bottle of wine signals a moment of sharing and friendship. Once experienced, this moment only survives in our memories. So yes, it is truly the art of the here and now!"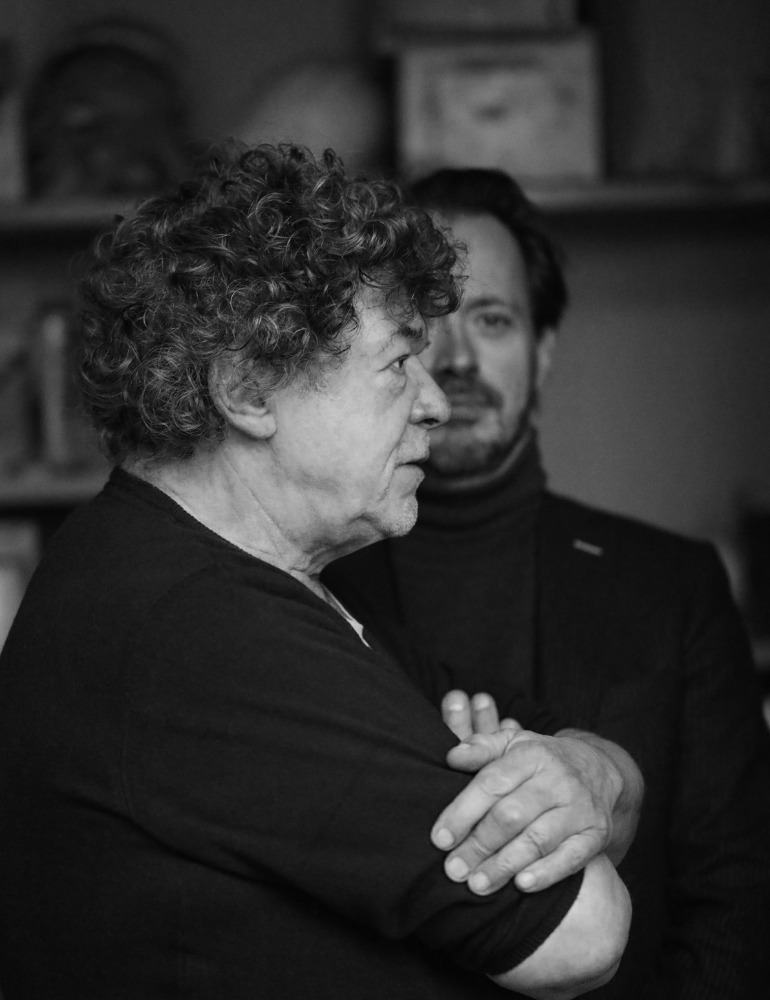 Arthur Jeanne
More informations on Michel Audiard:
Michel Audiard is an artist whose career took a significant turn in the 1990s thanks to his sculpted writing pens. It's a funny story: back then, a customer asked him to create a one-of-a-kind object that symbolised Asia. Michel imagined a creation that resembled a stalk of bamboo. Little did he know that the pen he made was a gift for Jacques Chirac to congratulate him on being elected President of France! President Chirac loved this unique, personalised object so much that he made sculpted pens the official gift of the French Presidency. Seventy heads of state and public figures have received a pen sculpted by Michel Audiard, from Bill Clinton and Nelson Mandela to Sheikh Zayed, Deng Xiaoping, Barack Obama and Madonna! This attention gave the artist an international reputation and the financial resources to create his own foundry in Rochecorbon, near Tours. The foundry is literally surrounded by vineyards in the centre of the Vouvray appellation.
Website : www.empreinteparaudiard.com
Instagram : empreinte.par.audiard