Interview: Richard Hemming and Mason Ng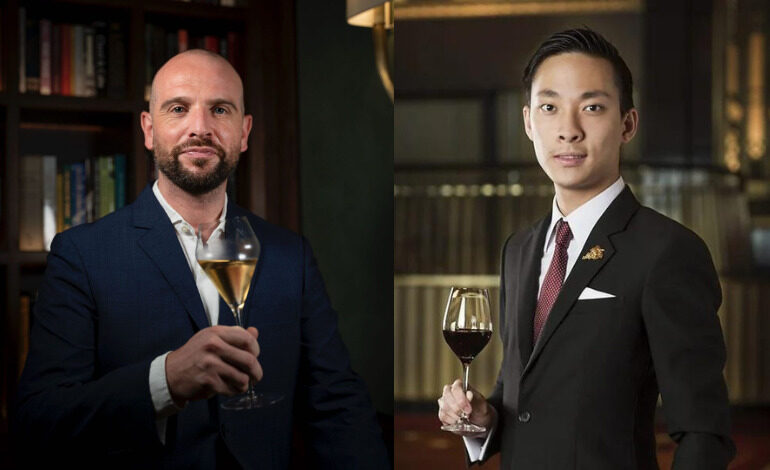 A few days before Vinexpo Singapore, which will take place on May 23, Vintage met Mason Ng, elected Best Sommelier of Asia in Tokyo last year, chief oenologist of Park 90 and Richard Hemming, journalist and Master of Wine who now deploys his talents at the private club 67 Pall Mall. These two eminent figures of the Singaporean wine world tell us about their career and what the Grands Crus of Bordeaux mean to them.
How did you get into wine?
Richard Hemming: I don't come from a family of connoisseurs, even if my father occasionally drank wine. After university, I was looking for a job and I started working at a wine retailer completely by chance. I became hooked and decided that I wanted to make a career in wine. I began studying wine seriously, eventually becoming a specialist wine journalist. In 2015 I qualified as a Master of Wine, and since 2019 I have been living in Singapore where I am head of the Asian market for the 67 Pall Mall private members' club.
Mason Ng: I first became interested in wine around the age of 14. At the time, I lived in Malaysia, where I'm from. I was originally supposed to study accounting and finance but I preferred to study wine! After completing my sommelier diploma, I began working in various establishments in Singapore, in particular, the three-Michelin-starred restaurant Les Amis. I have been head sommelier at Park 90 for the past four years.
What role has Bordeaux played in your training?
RH: A key role – Bordeaux is essential for understanding the history of wine. It's a benchmark and it's really important to learn how to distinguish the various appellations and vintages during your studies. And as a young sommelier, it's only natural to want to taste these great Bordeaux wines you hear so much about.
MN: It has played a key role for me too. The first wines I drank were Bordeaux since my uncle is a big fan of Bordeaux wine. He had me taste many classified growths, from second to fifth growths. One of the first bottles that really stood out for me was a 2005 Clos du Marquis. I also have fond memories of drinking bottles of Carmes Haut-Brion with my uncle. Later on, the first bottles I bought were Duhart Milon.
Have you been to Bordeaux?
MN: Never, but I would love to go and visit all the estates. I just need to find the right time.
RH: I had the opportunity to go during 2011 En Primeur Week. It left me a lasting impression.
Are Bordeaux great growths popular in Singapore?
MN: When I worked at Les Amis, six out of ten bottles we served were Bordeaux. I have uncorked a lot of Bordeaux great growths during my career! Every day, I served a bottle of Petrus or Yquem. I loved every minute! To come back to your question, I'd say that in Singapore, Bordeaux great growths were hugely popular before Burgundy wines took centre stage. Now, Bordeaux is once again booming and we sell many Bordeaux Great Growths at 90 Park.
RH: In terms of popularity and prestige, Bordeaux and Burgundy are neck and neck in Singapore. Bordeaux classified growths are incredibly popular. At 67 Pall Mall, we always offer our members several vintages from the five first great growths in the 1855 classification. But the wines that are the most successful now are the fifth growths.
Do you have any tasting memories that stand out?
RH: One memory that immediately comes to mind is a tasting of the 2010 Pontet Canet during the pandemic. The club was closed but we organised webinars for our members. Every week, I chose a wine and we sent the bottles to the members. One Sunday night, around 50 members from 67 Pall Mall opened this bottle at home and shared their impressions of the Pontet Canet vintage. For one hour, we mulled over this wine and watched it change over time. It was quite simply fabulous. It is a magnificent wine.
MN: Not long ago, I ordered a bottle of 1970 Duhart Milon at a restaurant, and it was like returning to my first love, it reminded me why I had chosen to work in wine!