"Hôtel de Crillon: choose the wine then create the menu"
Chef Boris Campanella and Sommelier Xavier Thuizat work side by side at Hôtel de Crillon in Paris. Together, they have come up with an extraordinary concept: in their Michelin-starred restaurant, the wines dictate the food pairings and menus. Here's an interview with two people who have broken away from the conventional codes of haute cuisine.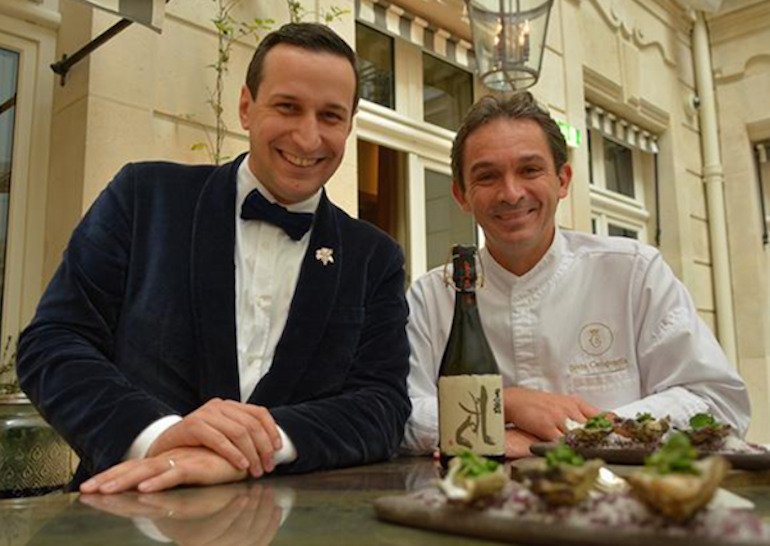 Can you tell us about the concept at your Michelin-starred restaurant, l'Ecrin?
Boris Campanella:
At l'Ecrin, we create menus depending on the chosen wine. This means that we have no set menu; we create a personalised experience for every table. No two tables of diners eat the same thing.
Xavier Thuizat: The chosen wine is the starting point for creating the menu. And that's what sets the direction. Then, the chef follows the contours of the wine, according to his personal preference. We decided to reverse how we approach the pairing, by placing the bottle at the centre of the table. I tell the story of the winegrower and the vineyards. We are the first gastronomic restaurant to offer such a fascinating experience.
At the start, are customers a little thrown off by this approach?
XT: The first thing I ask customers when they sit down is: "What would you like to drink?" They often reply, "What are we eating?". I ask them again what would they like to drink. At the start they are a bit overwhelmed, they wonder what they've landed themselves into! (laughs)
In practical terms, how do you work?
XT: It's a shared thinking process that requires a great deal of complicity. Once we know what the customers want to drink, we discuss and narrow down our ideas. I call the Chef over and together we design the menu that perfectly suits the chosen bottle. The wine should "potentiate" the food.
BC: We don't stop calling each other, I talk more to him on the phone than my wife! I need him; he needs me. (laughs)
XT: It's a tailor-made, instant process. As well as pairings, we play around with the cooking times and potency of sauces.
BC: We taste together and during the service, Xavier often goes down to the kitchen to taste, adjust, bring in a bit of a soul, and ask me to spice things up a bit where necessary.
In your view, what is the secret to a successful pairing?
BC: It's about finding the perfect balance. And the relationship between Xavier and myself helps us to succeed. Xavier deals with the customers; I deal with the products in the kitchen. The combination of the two makes for a good match.
XT: You need to isolate the aromatic characteristics of your chosen wine to build a reference framework based on aromas, acidity, tannins and alcohol levels. Once we have this in mind, we work with Boris to decide what goes with what. For example, if a white wine has high acidity, we will bring out this acidity with a dish that adds freshness and acidity, with vegetal notes. In contrast, for wines with very low acidity, we look for dishes with volume, richness and buttery notes.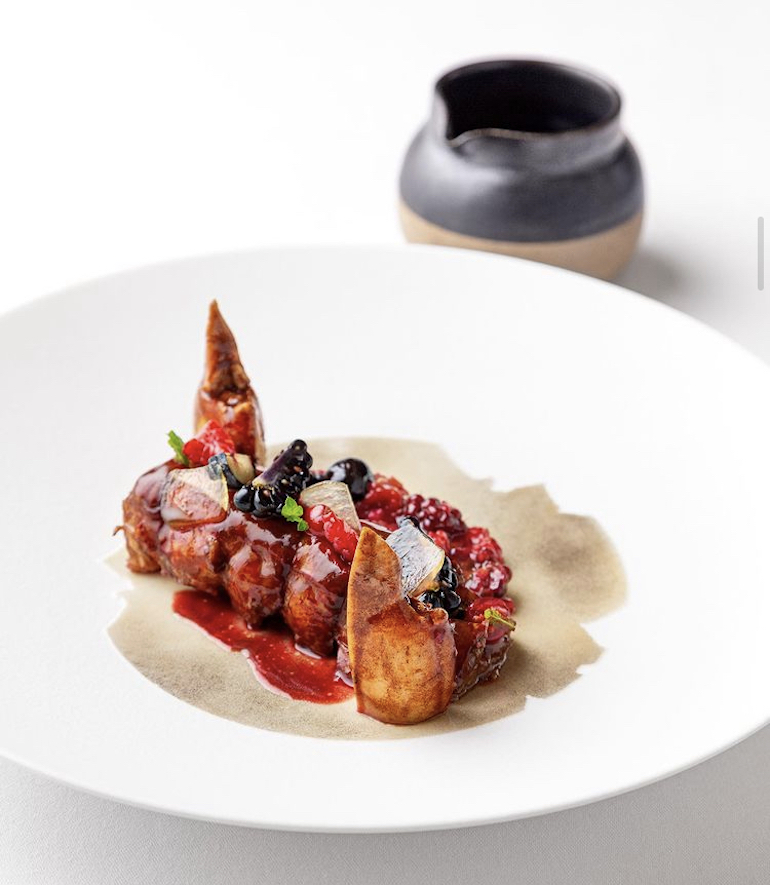 Recently a customer asked for a fine Sauternes wine. Which menu did you design to accompany it?
XT: When a customer asks you for a fine Sauternes, you're obviously going to be thrown off. It is an unusual request to create an entire menu. But it's also great as you have to rack your brain. Every time, we manage to find combinations by adjusting our recipes to offer something truly exquisite.
BC: In this particular case, we started with pan-fried foie gras with quince, followed by macaroni with blanquette sauce topped with parmesan and served with artichoke jus. Next, we served truffled fatted chicken. What a treat!
What would you offer customers who ordered a Saint Estèphe Grand Cru?
XT: You'd need to play with both the earthy aspect and the austere acidity of Saint Estèphe. Dishes such as snails, beetroot and foie gras would go wonderfully with it.
BC: Beetroot and smoked eel are incredible with a Saint-Estèphe, followed by an exceptional meat dish, such as wagyu beef Bourgignon.
XT: You could smoke the meat on a barbecue grill with a few vine cuttings. You can add a smoky aspect to Saint-Estèphe and Pauillac wines, whereas with Saint-Julien and Margaux, you can relax a little.
XT : On pourrait faire fumer la viande au barbecue avec quelques sarments de vigne. On peut apporter un aspect fumé sur des vins de Saint-Estèphe et Pauillac. Alors que sur Saint Julien et Margaux, on se détend un peu.
Diners are completely bowled over, it's crazy.
Is there a pairing that you particularly enjoy with a Bordeaux Great Growth?
XT: 2008 Château Figeac has a great deal of freshness and goes really well with our lobster stew with wild berries.
BC: To design this dish, I had set my heart on a hare stew. I added candied ginger and a little lemon balm. It's fair to say that a Saint-Emilion Great Growth is spectacular.
XT: Diners are completely bowled over, it's crazy. We throw them off because they can't imagine having red wine with lobster.
BC: I also love minced gamebird tartlets glazed with jus accompanied by a bottle of Château Clinet. For the filling, we use offal of pheasant or partridge, for instance. The bird is cooked whole, the offal is removed and mixed with caramelised shallots, foie gras cubes, a little Colonatta bacon fat, juniper and Armagnac. We place the mixture on panfried canapés. We then bake it all at 150 degrees. It's insanely good! You can eat it with your fingers.
Are they any products you mustn't serve with wine?
XT: For me, there is only one product that's off-limits: vinegar. It's a virtually forbidden pairing as it hardens the acidity of wine and is too strong. As for the rest, when I am stuck on certain dishes, sake immediately comes to mind. I fell in love with sake, both gastronomically and professionally (Xavier is a Sake Samurai and he also organises the Kura Master competition each year) since it opens up new possibilities and a wealth of aromas that I have never detected in wine, which go beautifully with dishes such as shellfish.