Maximilian Riedel: Our history is intrinsically linked to that of fine Bordeaux wines
In the field of glassmaking, Riedel is synonymous with excellence and innovation. The Austrian brand was the first to craft glassware specifically designed to drink fine wines in optimal conditions. Interview with Maximilian Riedel, Bordeaux Grand Cru enthusiast and president of the family business, founded 265 years ago.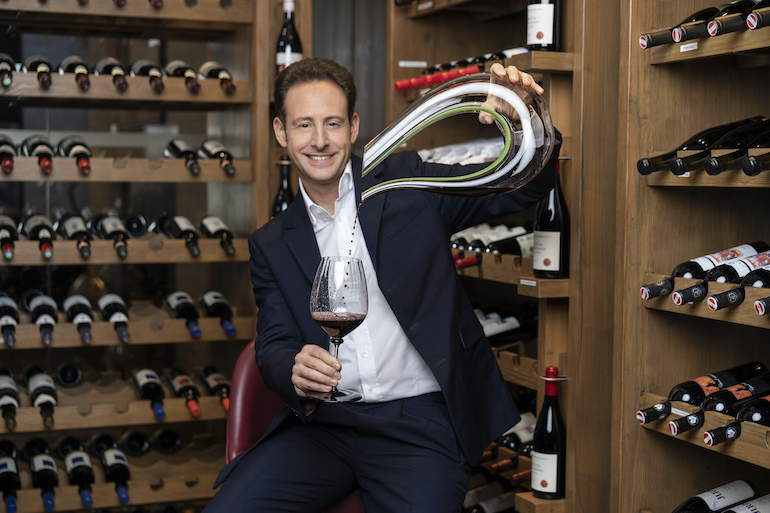 Can you tell us about Riedel, its history and expertise?
Riedel is a family business established 265 years ago and passed down from father to son. We have been glassmakers since 1756. I am the 11th generation of this tradition. My grandfather Klaus Riedel designed the predecessor of the modern wine glass in 1957 (he holds said wine glass up to the screen). At the time, this egg-shaped stemmed wine glass, with thin sides and no embellishments, was something of a revolution. Up until then, it was fashionable to drink wine in heavy, ornate, cut glasses. My grandfather was a designer and part of the Bauhaus art movement and its "Less is more" philosophy. He understood that the shape should be dictated by functionality. He was a pioneer, and the first to say that the contents were more important than the glass itself. He simply had to create a glass that expressed the contents as best as possible. He thus began collaborating with sommeliers to design different glasses with characteristics adapted to whites, reds, sweet white wines and champagne.
Did your father, Georg, follow in his footsteps?
Yes. My father, Georg Riedel, went one step further. He thought he could do even better, and that the only way to improve was to work with those who grow the grapes and know wine better than anyone else: winegrowers. He realised that there were so many differences between a Pinot Noir from Burgundy and a Cabernet from the Gironde that the same glass could not be used for both. He went on to study winegrowing and surrounded himself with the best Bordeaux sommeliers to design different glasses for each grape variety.
"Products must be designed with passion, and considered as gifts: Bordeaux winegrowers make wine because they like wine. "
Is the shape of the glass really that important?
Absolutely. Each grape variety has its very own identity. Cabernet, for example, has thick skins and plenty of tannin. It therefore needs a glass which softens the tannins and showcases its intrinsic minerality and fruitiness. Each grape variety requires a different container specially adapted to express itself. Our glasses are designed with this in mind.
How do people in charge of a 265-year-old brand find a balance between history and modernity?
The traditional aspect is important to us, but if we used the methods that my grandfather used, we would go bankrupt! Our history is a solid foundation. We need it to build our future but it is not our future. We need to move with the times. The glasses we made 20 years ago would no longer be appropriate today since wines were very different then. We are continuously improving our practices in line with developments in wine knowledge. And we are adapting to viticultural trends to offer consumers the best possible experience.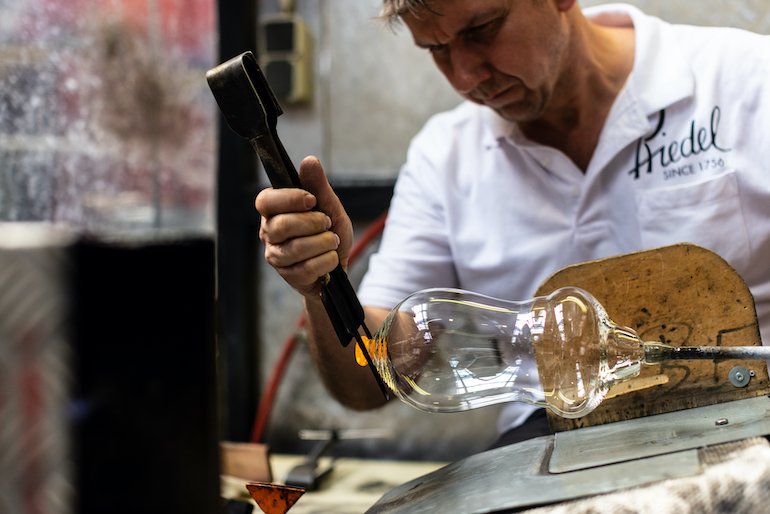 Florian Lechner
In your view, what is behind Riedel's success today, and what is your philosophy?
We are glassmakers. But we are glassmakers who are passionate about wine and we work closely with sommeliers, always aiming for excellence. I believe our success is down to our passion for wine. We do not make wine but we do make modern and innovative glasses to taste them in the best possible conditions, and in keeping with the times. While any glass can be used to drink wine, I believe that wine is so precious and special that it should be consumed in the most elegant way possible.
What is your relationship with the Bordeaux Grand Crus?

Bordeaux and Riedel share a long history. I had the opportunity to meet between 5 and 10 presidents of the Union des Grands Crus de Bordeaux (UGCB). In particular, I keenly remember wonderful dinners and tastings with Olivier Bernard in New York. I also have fond memories of a fabulous dinner at Château Figeac when I was 18, and harvesting grapes at Pomerol with Christian and Edouard Moueix in 1997.
Is it possible to compare the crafting of a Riedel glass with that of a Bordeaux Grand Cru?
Is it possible to compare the crafting of a Riedel glass with that of a Bordeaux Grand Cru?