Interview with Marc Almert, ASI Best Sommelier in the World
Marc Almert is the Best Sommelier in the World. He was awarded this title in 2019 in Antwerp, aged just 27. Born in Germany and now head sommelier at the Baur au Lac hotel in Zurich, this extraordinary man tells us about his career and approach to sommellerie. An eye-opening interview.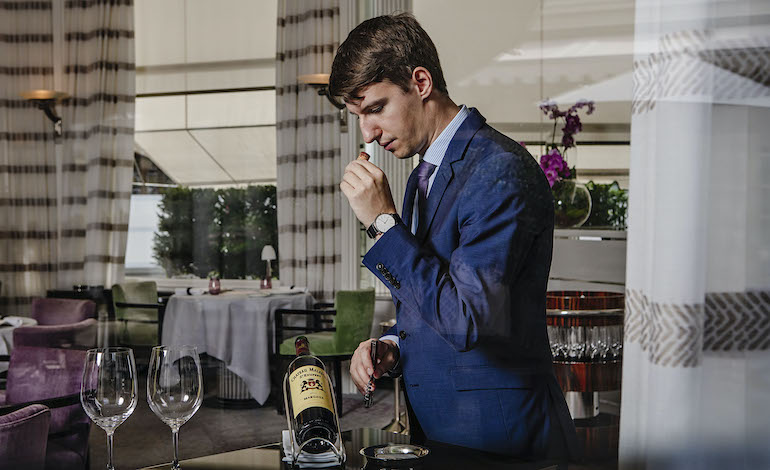 Hello Marc, how does it feel to be elected the best sommelier in the world?
It's quite surreal. During the first few days, I felt like I was in a dream, I couldn't believe it. As a young sommelier, I was very surprised to win this competition! But I was also incredibly proud.
How did you prepare for the competition? French sommelier David Biraud told us he approaches these events like a professional athlete…
I completely agree! In fact, we even completed a few training sessions together. During our training in Montréal, Canada, we took part in yoga and meditation classes. We even attended conferences by top-level athletes. This competition requires a great deal of motivation and hard work in various fields. That's why it is impossible to prepare for it alone. I had a team to help me. Not only my family and my girlfriend, but also a coach and all the staff at the German sommellerie association and of course my colleagues at the Baur au Lac, including Aurélien Blanc, the current best sommelier of Switzerland.
How did you become a sommelier? Was it always your true vocation or did you come across it during your career?
When I was a child, I dreamed of becoming an engineering physicist and learning how to build planes, cars and space vessels! Then, when I grew up, I realized that I loved meeting people, speaking foreign languages, travelling, and going to restaurants. I therefore decided to enroll in a hotel and catering school, as this corresponded to what I enjoyed doing in life. I learned everything there was to know, from dishwashing to cooking, welcoming clients, and housekeeping. It was around this time that I developed a keen interest in wine. I loved greeting customers in restaurants, offering advice, and serving tables. That's how I specialized and became a sommelier.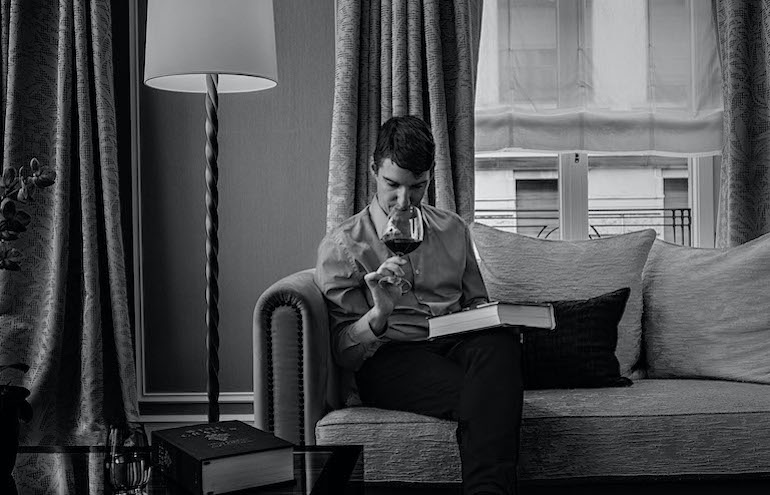 Do you come from a family with a strong wine background?

I have no personal or professional ties to the wine industry. I am originally from Cologne, a city known more for its beer than its wine! When I was younger, wine was served at family dinners but I never took a liking to it. I tasted it for the first time when I was a hotel and catering student…
What philosophy do you instill at Baur au Lac in Zurich, where you work as a sommelier?
Baur au Lac, Zurich, is a 5-star hotel which also owns the wine distribution company Baur au Lac Vins. This institution has existed for 175 years and still belongs to the same family. It therefore has a very traditional philosophy and incredibly high standards. However, we also ensure we keep up-to-date with the latest wine trends. I therefore aim to perpetuate the existing traditions inherent to Baur au Lac while maintaining a very modern approach. Our two Michelin star Pavillon restaurant offers two types of wine pairing to go with our menus created by Chef Laurent Eperon. One is 100% Swiss, the other is international.
Are there any food and wine pairings you are particularly fond of at the moment?
We opened the restaurant exclusively for hotel guests over Easter and decided to work with a very traditional pairing for this occasion. Lamb with a Bordeaux Grand Cru. Namely, a 2011 Branaire Ducru. The wine is beginning to develop wonderful maturity. It is the perfect partner for lamb cooked with capers, olives and feta cheese. It is ideal for a festive occasion, such as Easter!
In fact, what does Bordeaux represent for you?
Bordeaux is a key component in our Baur au Lac wine menu. We offer historic wines, in particular, several verticals of Bordeaux First Growth estates. Personally, I have very fond memories of Bordeaux wines. I especially remember the time I spent visiting the region. For me, it was a unique opportunity to discover this magnificent wine region and meet the people behind the bottles and estates. Understanding their philosophy, the various terroirs and vineyards, getting a sense of what they represent. Personally, I find the development of Bordeaux wines fascinating. I attended my first En Primeur tasting in 2019, just after the world competition, and later on in the evening, I was fortunate enough to taste much older vintages. The tasting session was incredible. The wines each had a very different expression.
In your opinion, what are the qualities needed to become a great sommelier?
For me, there are three main qualities that every great sommelier must have. The first is curiosity, a desire to discover new products, new regions, to take on challenges and be open to discussions. The second is humility – the customer is always right, and the sommelier is simply there to advise them. The customer comes first, rather than the sommelier. In my view, the sommelier is an ambassador who serves as the middleman between winegrowers and consumers. With this in mind, it is important to listen to what producers have to tell us and pass it onto customers. That's how I see my job.